JIANGYIN ZHONGLIAN INTERNATIONAL TRADE CO., LTD.
We are the leading producer & supplier of steel doors, security doors,prehung doors & windows ,school doors, hospital doors,fire doors and other custom mades doors. The products are mainly used in shipping container, prefab house, school, hospital and a variety of residential, commercial and industrial sectors.
We are located in eastern China, an hour's drive from Shanghai. We are a collection of research and development, design, sales and service in one of the modern enterprises. We have a professional sales team and research and development and technical team. Especially good at all kinds of personalized custom steel door research and development design.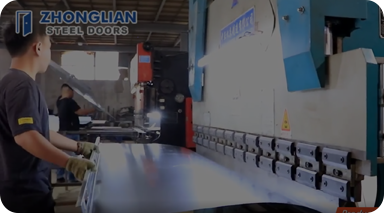 We have established long-term and stable cooperative relations with customers in Southeast Asia, Europe and America, such as UK,Australia, Philippines, Israel, Brazil, etc.
We always implement the essence of "quality, integrity, pragmatism and innovation", and unremittingly pursue the quality and service of products. Set up the company's brand, strive to improve the customer's understanding, recognition and satisfaction of products. We believe that our company will provide you with quality products and services.
We owns our professional production company which was founded in 2000 and covers an area of 13000㎡ with workshop of 25000 ㎡. It has modern workshop and advanced production equipment, high-quality management personnel and high-tech technical production personnel and advanced management mode. The company has established good and stable cooperative partnership with many well-known Chinese enterprises such as CSCEC, CRCC, algeco Chengdong, GS housing, house space prefab, etc.
Company Name: Jiangyin Zhonglian International Trade Co., Ltd.
Contact Person: Mr.Zhou (General Manager)

Please Enter Your Information
---
Copyright © 2022 Jiangyin Zhonglian International Trade Co., Ltd. SEO